View our Virtual Timeline celebrating 50 years of United Community Center!
Click on the Image Below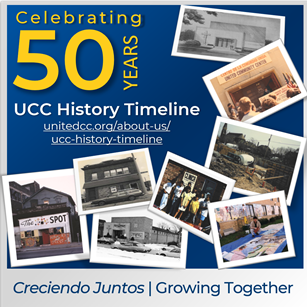 United Community Center Grows from Humble Beginnings

The United Community Center began in the late 1960s as an outreach program of the Milwaukee Christian Center, which was known as "The Spot."

Located in the heart of the Spanish-speaking community on Milwaukee's south side, The Spot was a small teen center in a vacated tavern on Sixth Street. It was a place where neighborhood teens could meet and socialize in a safe environment. There were many recreational programs and organized activities.

By 1970, the Hispanic community wanted to assume control of the program and decided to separate from the Milwaukee Christian Center. As word spread and membership grew, new programs and services were added. Soon, The Spot was gaining a reputation as a community service agency rather than simply a teen center. With these changes, the organization's name changed to the United Community Spot, and later the United Community Center (UCC).

With strong leadership and the commitment of many staff members and volunteers, UCC has overcome many challenges in its more than three decades of service. Funding was a frequent concern, as was the availability of space for the growing organization. The United Way of Greater Milwaukee and the City of Milwaukee's Department of Community Development provided much-needed support in the early years.

To learn more about the UCC's history, visit our online timeline.
Serving the Whole Community

In 1972, UCC moved to its current location on Ninth Street and continued to provide successful after-school and youth programs. By the late '70s, as demand grew for a broader range of community services, UCC began providing alcohol and drug treatment programs, as well as vocational and educational assistance. Already, UCC had outgrown its space and began its first building expansion campaign, led by longtime friend Ted Friedlander.

In the summer of 1980, construction of the first addition to the facility began. The addition allowed UCC to add a full boxing ring, a weightlifting and exercise room, and a community room complete with a fireplace, lounge, and meeting space. By 1984, a restaurant and catering service were added with the birth of Café el Sol.

Throughout its history, UCC has maintained an awareness of Hispanic arts and the cultural heritage of its constituency. A variety of dance, music, art, and theater programs were initiated. In 1987, Latino Arts, Inc. was founded as the cultural and artistic affiliate of UCC.

In the late '80s, another capital campaign supported construction of a new gymnasium to expand health and athletic programs. In 1991, UCC merged with the Bruce-Guadalupe Community School—a unique partnership and a model for successful community-based educational reform.

UCC then looked to broaden its mission to serve all Hispanics, including the elderly. In 1997, UCC merged with La Guadalupana, a senior center serving area Hispanic residents. An adult day center and a senior center were added to provide a variety of programs for both frail and more mobile elderly participants. Soon after, the UCC-US Bank Village—a 19-unit elderly housing facility—was built across from the senior center.
The New Millennium

In 2001, UCC added a new middle school to serve students in grades 6 through 8. The school provides state-of-the-art equipment and facilities with a focus on the basics such as math and reading, along with strong programs for cultural arts, science, technology, consumer education, and more.

Another capital campaign begun in 2002 enabled UCC to add a new fitness center, teen center, and main lobby. It also enabled renovation of an auditorium and gallery for Latino Arts, Inc. The second phase of the campaign funded construction of a new Human Services and alternative middle school building on the corner of Sixth and Washington Streets, completed in December of 2003.

Renovations and additions through 2007 have led to expanded capabilities in serving the elderly and our youth with an expanded Adult Day Center facility and the creation of an Early Childhood Education Center which marked the beginning of Bruce-Guadalupe Community School's 3K program.

The year 2008 saw the dedication of our Generations Park, which is located behind the main building that provides a common area for interaction between seniors and youths. In November 2010, UCC and The Housing Authority of the City of Milwaukeecelebrated the opening of the Olga Village, a 37-unit housing community dedicated to providing environmentally sustainable and affordable living options for Milwaukee's seniors.

In spring of 2013, UCC announced the Building On Success Capital Campaign to raise $8 million to build a 36,000 square-foot addition to Bruce-Guadalupe Community School, adding facilities to accommodate 600 new students.The newly constructed UCC Acosta Middle School opened its doors in 2018, with students starting the 2018 school year off in their new home.

From its humble beginnings as a small teen center, the United Community Center has grown to a full service, state-of-the art organization serving more than 18,000 people per year. Its ever-expanding range of programs and services remain a vital, important part of life to many Hispanics and south side residents.