Are you ready to join our volunteer team?
Thank you for your interest in volunteering with UCC!  Please take a look at the information below to get involved!
To register for these opportunities, Contact Kiara Rosado, at 414-389-4735 or send Kiara an email. For ongoing volunteers, please start by completing the Volunteer Application.
Other opportunities include:
One Time/In-Person small group volunteering:
Adult Day Center Craft Projects:

Small groups of people (3-5) create a simple craft and come prepared with supplies and a process in place to work with small groups of elderly on a fun craft project.
Monday through Thursday from 9:30-11:15.

Adult Day Center Spa Day

Small groups of volunteers (3-5) can treat our clients at the Adult Day Center to a little pampering by doing their nails. We would request that volunteers bring supplies.
Monday through Thursday from 9:30-11:15.
Virtual Opportunities:
No Sew Blankets – We can definitely always use more of these, and kits or make- your-own options are readily available at craft stores and demo videos are readily available on YouTube. We could take as many as you are able  to make for our residential clients at our Recovery House. 
School Supplies: We have an Amazon Wish List set up for school supplies, which also includes a high need for masks, both cloth and disposable - https://www.amazon.com/hz/wishlist/ls/2XL4JMB60S5PV?ref_=wl_share
Donated Kits
*Winter kits with scarves/gloves/etc. for our Human Services Program
*Winter kits for our Elementary School students with scarves/gloves/hats etc.
*Toiletries Kits
*New children's' books for pre-K
*New School Supplies for pre-K
 All of our kit options are available on the United Way website here: United Community Center | Volunteers United (unitedwaygmwc.org)
Other On-Going Volunteer Needs for Individual Volunteers:
We request that all in-person volunteers wear a mask and we are strongly encouraging our volunteers to be vaccinated.   All on-going volunteers must complete full application and background check process.
Coaches: UCC Athletics is looking for after school coaches for our elementary and middle school students. The coaching schedule rotates frequently and includes sports such as volleyball, soccer, flag football and basketball. 
Contact Athletic Director, Eric Roecker for more information - Email Eric
Technology Tutors for Elderly: Our Senior Center is looking for eager technology tutors to work with our clients on how to use the computer (Word, Excel) and internet, and smart phones. 
Monday-Friday, 9-11 AM or 1-3 p.m.
Some Spanish language skills required.


Adult Day Center Program Assistants:  Assist in a variety of areas for Adult Day Center elderly clients:


Lunch Assistants: 11-1 – Mon- Friday. Assist with lunch duties and reception coverage
Next Steps:
1. If you are interested in a one-time opportunity contact us at info@unitedcc.org. Please keep in mind we require a Volunteer Application, waiver and/ or a background check, depending on the volunteer activity. For one-time events we need at least two weeks notice to coordinate with program teams.
Keep in mind we need at least 7-14 days to organize a volunteer placement which will start AFTER all application materials are received.  
---
---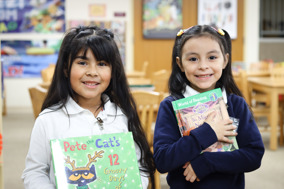 Due to COVID and staffing challenges, we would ask that all books be in good condition and be divided by age levels. Early Education (ages 2-5) Early Elementary (ages 6-8), Elementary (ages 8-11) Middle School (ages 12-14).
Most books indicate what grades or ages they can be used for, or this information could be accessible via Amazon. 
Please contact us to coordinate a book drive and schedule a drop-off. Thank you!